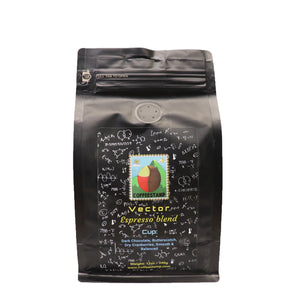 coffeestamp
Vector Blend
Sale price Price $15.00 Regular price
Described as ''your new favorite coffee," three amazing coffees blend together to create a tasty experience in your cup, perfect for either espresso or filter extraction. Each coffee was curated and roasted individually according to its own characteristics to highlight only the best. Combined with the precise amount to create a unique aroma and a perfect body.
| | |
| --- | --- |
|   |  Dark Chocolate, Butterscotch, Dry Cranberries, Smooth & Balanced. |
Complex as it looks, Formulated for Espresso extraction to be bold, sweet, creamy, and complex. This coffee was blended by flavor profile that means each coffee can be replaced without altering the final result. 
Consisting of 3 different components (three different coffees) each component is selected and inspected for any green defect. The roaster is set to a specific temperature for each coffee, timing and temperature control are the next steps in the process. Consistent on-time, temperature, and measuring make this coffee over and over again your favorite coffee.
40% Brazil- Fanzenda Moinho- Natural Process- Medium-Dark roast
30% Zambia- Kateshi AAA- Natural process- Medium roast
30%  Mexico-Finca los Milagros- Washed process- Medium roast