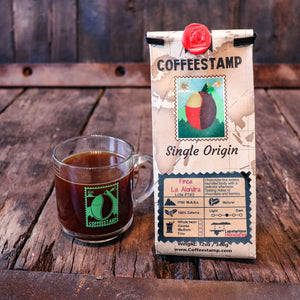 coffeestamp
Honduras Finca La Alondra Natural process
Sale price Price $17.50 Regular price
last harvest we brought 3 different lots from Finca la Alondra.
Lote#193. This micro-lot is everything you expect to hear about a natural process coffee. Fruity and complex with vibrant acidity and a citric-delicate aftertaste.  This coffee offers an intense aroma of cacao nibs. With taste notes of star fruit, lime and sugar cane.
 Producer: Finca La Alondra

Elevation:

1775 M.A.S.L

Process:

 Natural/Anaerobic

Varietal:

100% Caturra
About the coffee and the process: 
Lot #93 Hybrid Natural/Anaerobic 
After collecting the ripe cherries from the tree, the coffee is placed in air-tight tanks for 48 hours to help the cherry break all the fruit flavors before it's dried for 21-24 days on African raised beds. This coffee is flipped 3 times a day and is covered at night to avoid the humidity to affect the process. 
After all this, the coffee is in dry cherry phase and then is transferred to the dry mill for removing the parchment and also removing all defects from the coffee. Thanks to Beneficio San Vicente for the amazing work in the dry mill for preparing this great green coffee for Coffeestamp. 
 About Finca La Alondra 
 
Finca La Alondra is located in the municipality of Lepaterique (30 km from the capital city Tegucigalpa) Honduras. In the mountain of Yerba Buena at a height of 1600-1800 meters above sea level, with a rainfall of 2000-2500 mm / year, temperature between 10-22 Celsius. 
On the property you can find varietals like caturra and catuai red and yellow and villa sarchi. Miguel also has planted hundreds of fruit trees around the property like: mango, guava, limes, plantains etc. The farm is one of the most important sources of work in the surroundings, contributing to the economic development of the village. 
Lepaterique and the surrounding region have a tradition dedicated to the cultivation of cold-weather vegetables. This means that Finca La Alondra was one of the first coffee farms in the area for a very long time, with the first neighboring farms emerging in the year 2000. For this reason, access to good markets is still relatively low, making projects such as this one with San Vincente all the more important to secure a stable market for these farmers. 
The past and the future 
Miguel and Max Giron have been our friends since 1998 we were raised in the same neighborhood in Tegucigalpa Honduras. We will be collaborating from now on in the new coffee process and new exciting varieties. We want Lepaterique to be the new great specialty coffee region from Honduras bringing jobs and education to the area through coffee.  
.